Most visitors to Brunei arrive by plane, bus or ferry.  We chose the ferry for its low cost and smooth ride to Brunei (60 ringgit/ person) with a stop at Labuan Island. The ferry terminal is located at Jesselton Point in Kota Kinabalu, which is within walking distance of the D'Borneo Hotel where we stayed.  You can also take a short taxi ride to the terminal.  Our ferry left at 8am and arrived in Labuan around 11am.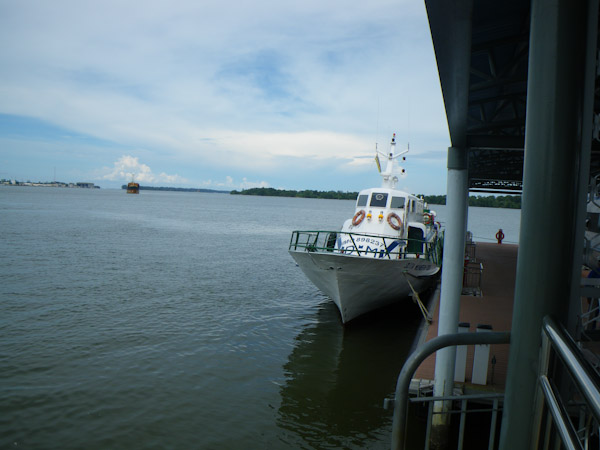 The ride to Labuan Island was very smooth and comfortable with enough leg room, but make sure you bring a sweater as it can get very cold inside with the air conditioner.  If you want a view, you will need to purchase a first class ticket since the rest of the seats are in the lower cabin and you would have to be 7 feet tall to look out the windows!  You can also purchase snacks and drinks on the ferry.  Once you get to Labuan Island you have to depart with all of your belongings since you will be changing ferries to get to Brunei.  The lay over is 1 hour and if you are quick, you can grab a taxi outside and get a quick tour of the island before departure.  Also, inside the terminal they had free wi-fi … so of course, we decided to stay ;).
We arrived in the town of Muara, Brunei at about 2pm and after going through customs we began looking for a money exchange or ATM.  The money exchange was closed and there were no ATMs to be found!  I asked a policeman where I could exchange money and he pointed me to the restaurant, but no dice there either.  The bus was parked out front but there was no bus driver to be found, so I asked a cab how much it would cost and he firmly replied $30 Brunei dollars … that's a lot of money.  Finally, we saw the bus driver and he gladly would take Malaysian Ringgit!  With the conversion it was about $2 per person for the 45 minute ride to Bandar Seri Begawan, the capital … what a bargain!
We had booked our hotel in advance, the Terrace Hotel, and when I spoke with them they told us to tell the bus driver we were staying at the Terrace Hotel and they should drop you off right in front of the hotel.  I was a little skeptical of this, but sure enough, it worked!  By 4pm we had arrived at our hotel and ready to explore tiny and wealthy Brunei!