Our second stop in Austria was Vienna, where we spent May 17th.  We started out by walking to some of the sights.  First we went to the Ankeruhr Clock, to watch the figures parade by at noon.  I wasn't too impressed, but George thought it was better than the Astronomical Clock in Prague. At least it's free ;).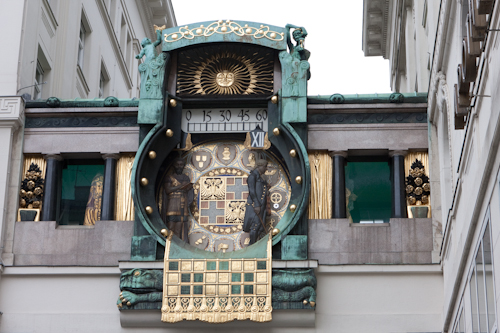 Next we went to admire the Gothic Stephansdom Cathedral, which is also free, even to look around inside.
Next we headed to the Hofburg Palace.  I was hoping to go inside the Nationalbibliothek, but it is closed on Mondays, so we just walked around the outside of the Palace.  We were quite displeased to find that the area of the Hofburg Palace labeled on the map as garden was actually a huge parking lot!  The cars made it difficult to get a picturesque shot of the palace.
Haus Der Musik
After walking around the palace we were both freezing and needed to find somewhere warm to spend the rest of the day.  There are many museums in Vienna to choose from and we decided on the Haus Der Musik due to its interactive format.  The entrance fee was 10 Euros/person, but well worth it!  We checked our bags when we arrived, so sorry, no photos.  The first floor is about the Vienna Philharmonic and has a fun interactive part, where two people each throw a large die 8 times and based on the rolls a computer generates a Viennese waltz.  We played twice, trying to figure out how it worked, but still weren't quite sure.  The next area we went to had multiple interactive screens, each with head phones for two people, which explained how our sense of hearing works.  Very interesting!  George had learned many of the concepts in his master's program, but most of it was new to me, and quite intriguing.  As we worked our way up the floors, the exhibits became more fun.  One floor was full of interactive exhibits.  There was a "music tree" where you sing into a mic and then various sounds are used to make a musical piece, that sounds like something you would hear at a MAT concert at UCSB.  There was another one where you sit in a chair and move your arms around between two sensors in order to activate icons on a large screen that each trigger a different sound.  We got a little crazy with that one and must have looked like we were in a boxing match or making up some new dance moves.  On another floor there was an audio guide tour about various classical composers/musicians who lived in Austria.  One of the sections had a circular room with a revolving post in the middle with pictures of dancers on it.  When the audio guide said, "feel free to waltz around the room," I jumped at the chance.  We just had to Viennese Waltz while we were in Vienna! 🙂
The Haus Der Musik was a perfect compliment to our visit to Ars Electronica.  We really enjoyed the Haus Der Musik and actually left feeling more energized than when we arrived.  I wish all museums were that entertaining and interactive!