Tiananmen Square
First, George, Pan, and I headed to Tiananmen Square.  The subway system was upgraded for the 2008 Olympics, and the train lines near where we were staying now have English, and are quite convenient for getting around the city.  What is also nice about the subway is the single price for any destination!  We had gotten used to small towns where we could walk to the sites, but Beijing is a BIG city, and some sort of transportation is a must!  It was cold and windy when we arrived at Tiananmen Square, so we just walked around briefly and took some photos.
Despite the cold, there were tons of tourists here, mostly Chinese.  It is hard to believe that a massacre occurred here almost 20 years ago during a pro-democracy rally.  The last thing you want to do is talk about it openly as there are plenty of guards and police around and I'm sure they would be happy to lock you up for a long time.  George had a very hard time keeping quiet.  We sometimes forget that not everyone shares the freedom of speech that we have at home.
Bei Hai Park
After hot pot for lunch we took the public bus to Bei Hai Park.  The beautiful Bei Hai Park was once an imperial garden, but is now open to everyone (although there is an entrance fee).
2008 Olympic Park
Then we headed to the Olympic park!  Even though it was after the 2008 Olympics, it was still exhilarating to visit the Olympic park and there were long lines.  The Water Cube and the Bird's Nest have separate entrance fees, so we opted just to go into the Water Cube.  The design of the Water Cube is awesome, and I love the cool blue color theme!  Afterward we waited around to see the buildings light up, but it was getting colder, so we decided to get dinner first and then come back to see the lights.  Surprisingly, we had to walk quite a ways to find a restaurant.  We had Pan's help ordering, so it was much easier than going out to eat on our own.  The types of food offered in Chinese restaurants are much more diverse than anywhere else we have visited!  After seeing the buildings lit up it was time to call it a night.
The Pangu Hotel looks huge, but also looks under construction.  When we walked by the buildings it appeared that most of the floors were either empty or filled with building materials.  By the way, what makes a hotel a 7 star rating?  and who gives the rating??
The design of the Bird's Nest is also very impressive, especially up close!  However, Pan says that most Chinese don't like the design at all … too much metal and it looks cold.
We wanted to get our photo with the mascots too, but you had to pay!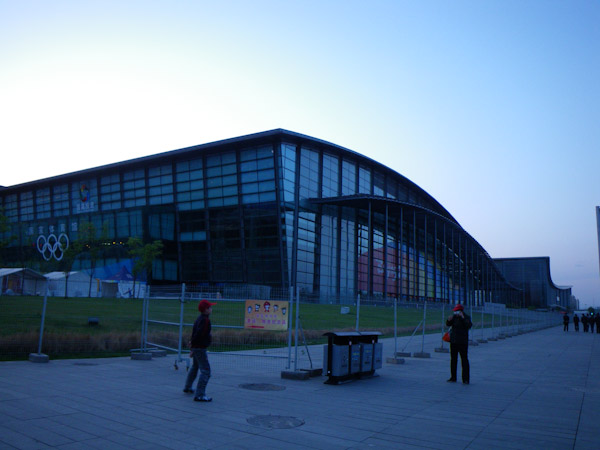 The Gymnastics Stadium was no where near as cool (architecturally) as the Water Cube or Bird's Nest, but you can also buy tickets to go inside there if you want.  For us, it was a long first full day in Beijing, and we were ready for some rest!