It was dreary and raining when we reached Cesky Krumlov, on May 14th.  Reluctantly we got out of the bus and ventured into the cold, trying to get our bearings.  We finally found a dirt path leading down hill from the bus station, crossed a main road, and headed down toward the town center.  We found a better tourist map next to the bowling alley/ restaurant.  We were able to figure out which direction our accommodation was in, and trudged through town with our heavy packs.  Then we crossed a bridge leaving the other side of the town center, and started to ascend a hill.  We followed the road up a steep sharp curve, where there was no side walk.  It was cold, our legs hurt, and we were frustrated.  Where is this place!  We thought about giving up and walking back down the hill towards the town center to look for a different accommodation than the one we had reserved.
We kept going, though, and pretty soon the road leveled out and we reached the address of Pension Zavodsky.  The lady who met us at the door of the pension was very friendly, although she hardly spoke any English, and the house was filled with the aroma of pastries baking.  Our hostess tried hard to communicate, using a mix of Czech, Polish, Italian, Spanish, and a hint of English.  She finally asked where we were from and realized that we were not Spanish after all, despite our last name of Avelino.  After showing us our room and pulling me along to show me where breakfast would be served in the morning she gave us a map and scribbled over an area that indicated there were stairs leading directly down the hill to the town center.  Ah, hah!  That's why it's supposedly only 5 minutes to the town center, you can bypass the steep curvy road and take a stairway straight down!  The homestay also came with free laundry and we were out of clothes, so right away we handed over our bag of laundry.  After catching our breaths for a minute we headed down the hill to town in search of lunch.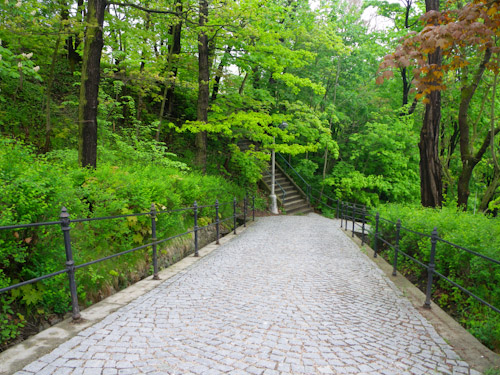 We got a break in the rain and were able to take some photos of the quaint and picturesque town.
We looked around for a place to eat lunch, but most of the restaurants were expensive tourist traps.  We found a Chinese restaurant advertising lunch specials for 49 CZK.  George ordered curry chicken and I ordered sweet and sour chicken, both off the lunch special menu.  We had bought a Coke at the market, to avoid ordering overpriced drinks.  But when the waitress asked if we'd like something to drink I automatically asked for hot tea.  I'm just used to it being free in Chinese restaurants back home and it was a cold day, so tea sounded nice and comforting.  Once our meal and tea arrived I realized we weren't supposed to order drinks.  Ooops.  As we finished our meal I joked, "Watch, the tea is going to cost 100 CZK!".  Well, I was close, it cost 80 CZK.  Our meal just went from 98 CZK (USD $4.63) to 178 CZK (USD $8.41) all because of the tea!  So word of warning, don't ever order anything in a tourist town without first finding out the price!
***
The following day, on May 15th, we headed into town to visit the Castle, the centerpiece of Cesky Krumlov.
What are all these people leaning over the wall to look at?
The bear moat!  George had read that the castle has maintained a bear moat for hundreds of years, but we were still surprised to see the bears!
We paid the entrance fee of 45 CZK to climb the castle tower.  There was an amazing view of the rest of the castle and the town from the tower.
After eating lunch and resting for a while, we headed out again in the evening for a nice dinner at the Two Mary's Restaurant (U Dwau Maryi).  We had meant to go for an early dinner, but we ate a late lunch, at another Chinese restaurant (no tea this time ;)), and weren't hungry until around 7:30pm.  When we got to Two Mary's they were full and wouldn't take a reservation.  They said we could sit outside on the terrace by the river or come back in one hour.  Even though it was cold out we opted to sit out on the terrace.  There were blankets, so it wasn't too bad.  It would be a very pleasant place to sit on a warm day.  We could have gone to another restaurant, but I was determined to try fruit dumplings while in the Czech Republic, and after searching online this was the only restaurant I could determining served them for sure.  So if anyone has a recommendation of where to get good fruit dumplings in Prague or Cesky Krumlov, please add it as a comment to this post!
I tried mead, which is wine made from honey instead of grapes, and it is delicious!  My new favorite!  I ordered the Bohemian mead served warm, which was perfect while sitting out in the chilly air.
After a while we got moved indoors, but rather than sitting at a normal table upstairs we sat downstairs facing the bar.  So if you're planning to eat at Two Mary's, even before the July-August tourist season, it's a good idea to make reservations or come early!
We opted to share a dish since we had a late lunch and the reviews had mentioned large portions, but either one of us could have easily finished the dish ourself.  If you are really hungry there are also meat loaded feast platters for offer.  I was mainly there for the dumplings, which turned out to be cheese dumplings in a blueberry sauce, and a bit disappointing.  The blueberry sauce was good but we didn't care for the dumplings, and they weren't the traditional fruit filled Czech dumplings I was looking for and still hope to try someday.
We liked the fairytale town of Cesky Krumlov and would have stayed longer, had the weather been better.  At the very least you should spend a night here to see what it looks like after the hordes of day trippers leave.  The town becomes quite and you can enjoy it's true charm.  It's also a great spot for outdoor activities like hiking and kayaking, which we would have loved to do if there had been warm and sunny weather.  We saw some kayakers in the river near the castle, but I wouldn't have wanted to risk taking a swim in the cold and swift running waters of the Vltava River. We'll have to partake in the outdoor adventures the next time we visit Cesky Krumlov!