Toto, I've a feeling we're not in Asia anymore…
After our week in Nepal we flew Thai Airlines back to Thailand, to retrieve our suitcase that we had left in Bangkok Self Storage 5 months earlier.  Since we were in Thailand anyway, we just had to visit the beach again.  This time we went to Koh Samui, for a little change.  We don't have many photos from Koh Samui, since my supposedly waterproof Pentax camera broke again :(.  We had a wonderful week walking on the beach and swimming in the ocean.  We even stayed 3 days at the Impiana Resort, which is located right on the beach and has a wonderful spa.  Our room came with a 75% discount for the spa, since it was low season, and we couldn't resist taking advantage of that!  The included buffet breakfast at Impiana was amazing!  It had a huge selection with an international range of dishes.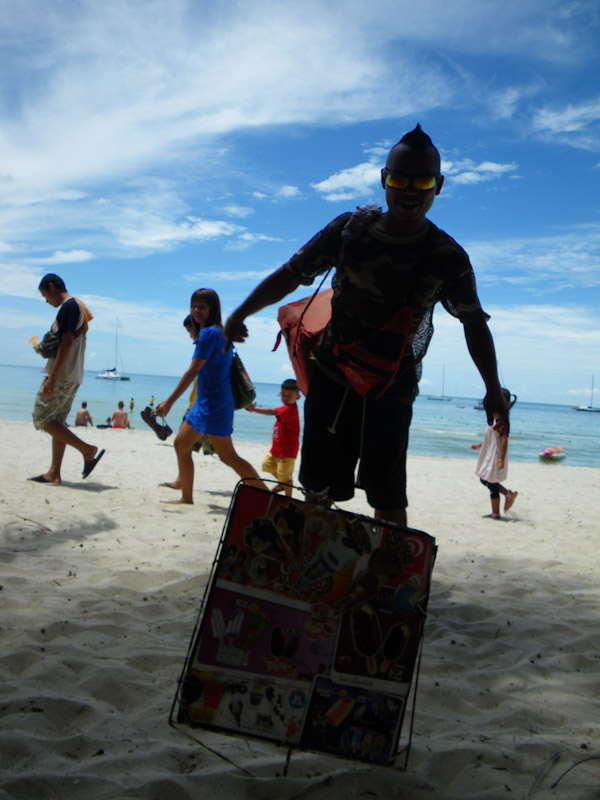 This ice cream vendor on the beach in Koh Samui was really stepping the competition up a notch by singing to potential customers lounging on the beach.  "Ice cream is good for me, ice cream is good for you, ice cream is good for him too, ICE CREAM" with a dramatic throwing of the sign into the sand.  We were impressed enough with his effort to buy an ice cream :).
We took a round-about route from Thailand to Europe, to get the cheapest airfare.  From Bangkok we flew Air Asia to Kuala Lumpur Malaysia, and the next morning flew from KL to London (which was a stop-over city on our way to Portugal).
What a change to be in Europe all of a sudden!  The architecture is certainly different, and if you act like you're about to cross the street the cars will actually stop for you!  We were rather confused the first couple times this happened and it took us a while to realize we could cross in front of the waiting car.
We spent four days in London, and man it is expensive here!  The pound is much stronger than the dollar, and everything costs waaaay more than in Asia!  We don't know how people can afford to eat here.  We stayed at a very nice hotel, The Park International Hotel.  It had a great location, next to the Gloucester Tube station, Kensington Gardens, museums, and it included a good breakfast.  But it sure burned a hole in our pocket!