We spent the day of March 29th in Jaipur.
Jaipur is known as the pink city, since all the buildings were painted a welcoming pink color for the Prince of Wales' (later King Edward VII) visit in 1876.  The buildings in the old city area are still maintained a salmon pink today.  Since we would only be spending one day in Jaipur I planned out what I thought would be a wonderful itinerary.  I just hadn't anticipated how draining the harassing touts and extreme heat would be.
We arrived in Jaipur Train Station at 6am.  Our first task was to find the baggage storage room, which we found labeled as the "Cloak Room."  We locked up the big backpack and left it at the station for 10 rupees.
Peacock Roof Top Restaurant
Then we went in search of Pearl Palace Hotel and the Peacock Roof Top Restaurant.  As soon as we got out of the station we were bombarded by auto-rickshaw drivers and cyclo drivers offering us rides.  We started walking down the street just to get away from them, but with no street signs we couldn't tell which way to go.  So we hired a rickshaw driver to take us to the Pearl Palace Hotel.  He wanted to wait for us and take us to another hotel if that one was full, but we told him there was no need to wait.  It was just about 7am and time for the Peacock Restaurant to open.  Our breakfast of fruit and yogurt was expensive, but it was a very pleasant setting, looking out at the city.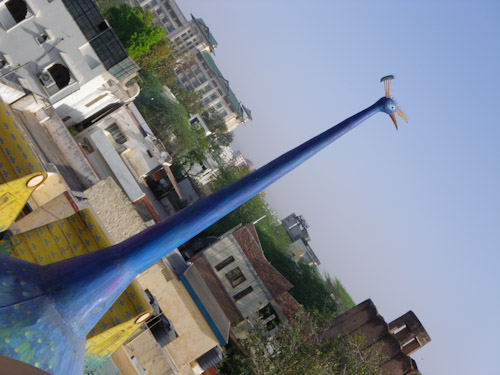 After breakfast around 8:15am we walked to the main Mirza Ismail (MI) road.  We walked down MI road toward the Old City area, where we planned to follow Lonely Planet's suggested walking tour.  It was a long walk, but it was still morning and not as hot as it would get, and we were just starting out for the day.  When we entered the Old City area through Ajmer Gate we found that the bazaars we planned to walk around were not even open yet.  People were still sweeping the trash and dirt from the sidewalks and cyclo drivers were still sleeping in their cyclos.  We altered our route and headed toward the sites, which opened at 9am.  First we went to the Jantar Mantar Observatory, which we had seen in a movie about India and thought would be very interesting.  We paid our 100 rupees/person entrance and started walking around.  We read some of the explanations for the different tools, but they didn't make any sense, so we decided to hire a guide for an additional 100 rupees.  Even with a guide it didn't make much sense.  When we tried asking questions to clarify, our guide just kept repeating the same sentences.  Not too helpful!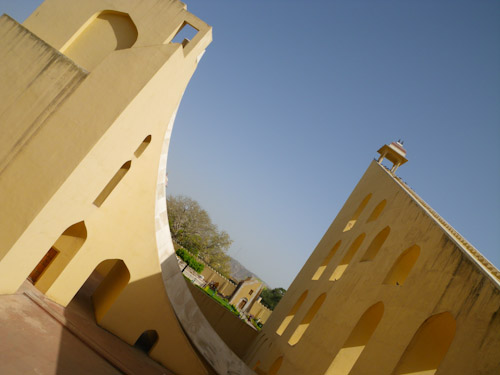 Afterward we attempted to find the Govind Devji Temple surrounded by gardens, but weren't able to locate it.  It was getting very hot, and the rickshaw and cyclo drivers were out in force.  Always asking where we were going.
We finally came across the honey comb patterned Hawa Mahal and took some photos.  We went across the street to get a better view and a man tried to get us to go up into his shop to get a better view, but we kept telling him we weren't interested in buying anything.  The Hawa Mahal is a five story structure that was built in 1799 to allow the ladies of the royal household to watch the processions of the city.
After that we attempted to do some shopping but it was so crazy and dreadfully hot, that I wasn't up to shopping.  I did buy a set of resin bangles, but after that I was ready to get out of the Old City, even though it was only 1:00pm.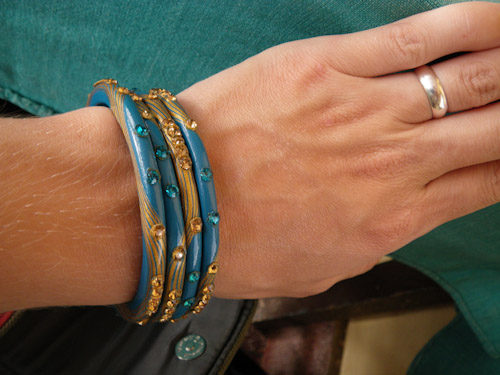 We made it to MI road and, exhausted, hired a cyclo driver to take us the rest of the way to the Raj Mandir movie theater, to check what was showing.  Unfortunately, the only movie showing was "Beware of Guest," a cheesy movie that we had already watched on an overnight bus.  So my plan of escaping the heat by watching a Bollywood movie was out the window.  We started walking back to the restaurant where we had planned to eat, but just around the corner we encountered a McDonald's.  George mentioned that we should try McDonald's sometime in India to see what they serve here, and I figured, why not now?  Sitting in the air conditioned room was a welcome relief.  We tried the Maharaja Chicken Mac and the Veggie Sandwich, both interesting, but not excellent.  We tried to get a refill of our soda, but they didn't understand and when they asked the manager he said, no, they couldn't do that, so we bought another soda in a new cup, instead.  We thought it was McDonald's, so it should be like back home, but not exactly.
So now what?  It was only early afternoon and we had already run out of things to do.  We checked the government run emporium, to compare prices and quality with the items at the bazaars, but there was nothing I was interested in there.  We considered going to the palace which we had skipped, but we still didn't want to pay the 300 rupees per person admission price. So we went back down MI road toward the train station to Café Coffee Day, where we had planned to spend the late evening hours.  We ordered a drink and I worked on typing posts while George read the guide book.
Copper Chimney Restaurant
For dinner we didn't want to go all the way back to the restaurant we skipped at lunchtime, so we found a closer one in the guide book.  We ate at Copper Chimney, which was a fancy expensive restaurant.  We paid over $10 for a meal for the first time in India!  The stuffed tomato curry and tikka chicken were good, but not better than the food we had gotten at much less expensive restaurants.  We did get clean silverware sets, which was a nice change.  After dinner, a bit more shopping to kill time and then back to Café Coffee day to wait.
Overall, I was disappointed with Jaipur.  It could be a wonderful city, with its sites and shopping, but the endless touts ruined it.  And it was depressing to see the poverty.  It was the most noticeable here out of the places we have visited thus far in India.  Men and even children sleeping on the street and begging for food.  It's heartbreaking, especially to see children that way.  And even the cyclo drivers look like they are barely getting by peddling around tourists in the over 100 degree Fahrenheit weather.
Tomorrow a new day and a new city.  We are taking a midnight train, 3 AC this time, and will arrive in Jaisalmer at 11:30am.