We arrived in Jaisalmer on March 30th and our plan for the day was to see the Fort and book our camel safari.  Jaisalmer is known as the Golden City, and its fort looks like a massive sandcastle sitting atop a hill.
We enjoyed the AC 3 train ride to Jaisalmer.  It's so much easier to sleep when the train is air conditioned!  Were we greeted at the train station by many people trying to whisk us away to their hotels.  We checked one that a guy on the train recommended, but fearing that the price was too good to be true and might come with a safari attached, we tried one from the guide book, instead.  We ended up staying at Renuka Hotel, which was in Lonely Planet, mostly because we didn't have energy to try anywhere else, and they promised not to pressure us into buying a safari trip.  We ate lunch at their rooftop restaurant after checking in, and the best part was the ice cold mineral (i.e. bottled) water!
After lunch, it was time to see the fort.  It was bright and hot as we headed down the shop filled street to find the entrance to the fort.  We thought we'd gone too far, and took a turn to head in the other direction.  Pretty soon we found ourselves walking on an almost deserted road around the fort.  The lack of shops and touts indicated that we had gone the wrong way.  We ended up walking the entire way around the fort in the desert heat, and found the entrance close to where we had switched directions.  At least we got to see the entire outside of the fort!
Once we found the entrance we went in and walked through the narrow streets.  It was early afternoon and it appeared that many people were taking a siesta.  We looked for an internet café, but most were closed.  It was a pleasant time to explore the fort, since there weren't shop owners keeping guard to call out to us.  We took some photos of the view and found Ganesh Travel, where we booked our camel safari.  It was hot and there wasn't much else to do around town, so we went back to our room at Renuka to rest for a bit.
Saffron Restaurant
For dinner we ate at Saffron Restaurant, a fancy place run by a Prince and Princess and located in one of the haveli's (traditional intricately carved houses).  The service was lacking, but the food was delicious and there was a great view of the fort, especially once it lit up at night.  We were just disappointed with the lassi's, which were luke warm, instead of cold.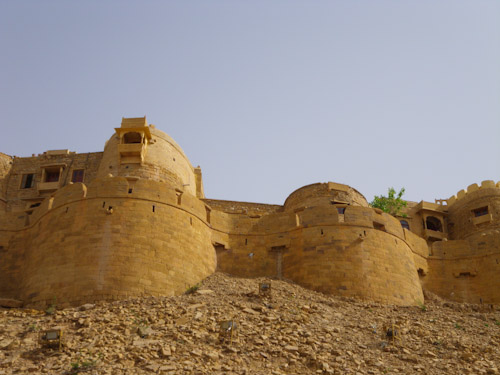 Although the fort was neat to see, it wasn't enough of a reason to have come this far west.  The other reason for coming to Jaisalmer was a desert camel safari- which we would set out on the next day!