We took a night train from Jaisalmer arriving in Jaipur in the early morning (around 5am).  We would have been happy to skip Jaipur this time around, but there wasn't a direct train from Jaisalmer to Agra.  We spent the day in Jaipur eating and shopping a bit before heading back to the train station for our train, which was supposed to depart around 2pm.  We checked at the "May I help you?" counter for our platform number and the gentleman there said that our train was running 3 hours late.  So we sat and waited in the waiting room, with George going and checking every 15-20 minutes to see if our train had arrived.  It ended up being only 2 hours late.  It was a nerve wracking wait.  There was no screen at the Jaipur station displaying arrival and departure times, and the announcements are always so muffled, and hardly updated.  We finally got on our train around 5pm and arrived in Agra around 9pm, instead of 7pm.
Luckily, we had emailed to reserve a room at Tourist Rest House.  It's away from the main tourist hotel area, but close to the Fort train station where we arrived.   When we got to the hotel they had my name written down and took us to see a room.  After showing us a very nice room the gentleman said, "this room is 600 rupees."  I was shocked and asked to see the room for 350 rupees that we had agreed to rent.  He said those were all taken and asked how much we would pay for the room he was showing us.  I responded 350 rupees, as agreed.  He casually said, "okay." But added, "don't tell the other guests, and tomorrow you can change rooms."  Cool!  The room turned out to be the nicest one we had stayed at so far on our trip through India.  And the best part- the room came with towels and toilet paper!
After checking in we went down to the garden courtyard area to get dinner, before the restaurant closed at 10pm.  It was so hot!  It had already been dark for a few hours, but the air wasn't cool at all.  We were exhausted and got to sleep as soon as we could, knowing that we had an early morning the next day.
On April 4th we woke up at 5:30am, headed to the Taj Mahl on a cyclo rickshaw at 6am, arriving there around 6:30am.  George had read in the guidebook that you couldn't bring in tripods, but I thought they were referring to big bulky tripods that people could trip over, so I said not to worry about our little Gorilla Pods.  Turns out the security is very thorough and searched our bags, and sent us to check our Gorilla Pods, my flashlight, and a straw in a locker.  So as the sun was rising, we had to walk back past the ticket counter to the locker room, check in our tripods, and then walk back to the entrance.
WARNING: Do not bring any prohibited items to the Taj Mahal, which  include tripods, sketch pads, and sometimes even books (they did allow in our Lonely Planet guide book, but sent some India tourists to check in their story book).
We still managed to get in to see the Taj Mahal around 7am, when it was less crowded and the morning sun shone a warm tone on the marble.  I think photos are the best way for me to explain the Taj Mahal.
I used to think that the Taj Mahal was all white, but it actually has colorful colorful patterns inlayed into it.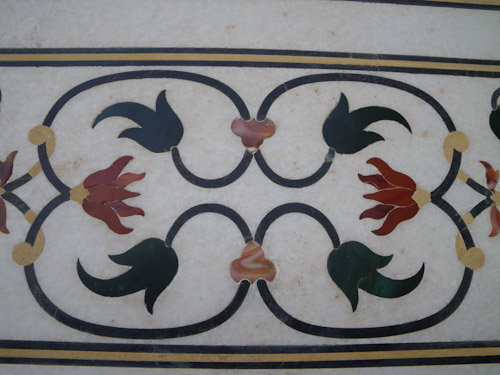 It was about 9:30am when we left the Taj Mahal, and getting much more crowded.  We got back to our hotel in time for 10am check out, breakfast, and switching to a 350 rupees/night room.  The room itself was okay, although much smaller than the first, but it's location upstairs made it soooo hot!  Even with the fan running it was miserably hot and stuffy.
After moving our luggage we hired the same cyclo rickshaw driver who had taken us to the Taj in the morning to take us to see Chini-Ka-Rauza, the baby Taj,  and Agra Fort.  We were out much later in the day than planned, since we had to make the trip back to our hotel, and it had gotten extremely hot.  The Chini-Ka-Rauza is located across the river and the traffic jam on the bridge took seemingly forever, plus cyclo rickshaws aren't the fastest form of transportation.  When we got across the bridge I found myself choking on the pollution, dirt and smoke in the air.  There is also gray water draining through open canals throughout Agra, with a very unpleasant smell.  We took a quick look around at the Chini-Ka-Rauza, which is unmaintained and has no entrance fee.
Next we headed to Itimae-Ud-Daulah (the baby Taj) which is a smaller mausoleum that is even more intricately carved and decorated than the Taj Mahal.  We were very glad we went to see it, as it is in some ways even more impressive than the Taj Mahal.  There is no entrance fee for the baby Taj, but be prepared to tip the guy who provides shoe covers, unless you want to go bare foot on the burning hot platform.
Next we headed to Agra Fort.  I had been excited to see the fort, but by the time we got there it was so hot and I was so drained that I could hardly pull myself along behind g from room to room.  We only stayed an hour, although I think it would be nice to explore for longer than that in the cool morning.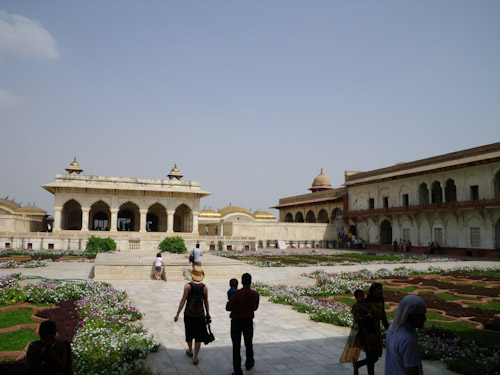 We got dropped off back at our hotel and ate lunch in the courtyard restaurant.  I wasn't feeling great, so I just ordered rice pudding, which I thought would be gentle on my stomach.  As with almost everything I order in India, it wasn't what I expected.  Instead of being cold it was burning hot!  I managed to eat it and get some fluids in me before we retired to our room.  This was the first place in India where we had WiFi in our room, so George got to work and I worked a little on the blog.  I don't know if it was heat exhaustion, the rice pudding, or going by the smelly gray water, but I got a slight case of Delhi Belly.  So instead of getting to use the internet I spent the rest of the day miserable and trying to rest. We had a night train that night, and I wasn't sure if I was going to be up to it.
We left our hotel for the train station around 11:30pm, but there were no rickshaws in sight.  We walked down the road a ways, but the only ones we saw already had passengers and wouldn't stop.  We went back to the hotel, to ask where we could find a rickshaw or if they could call one for us, but they were clueless.  They did finally call one rickshaw driver but he wanted 400 rupees to take us to the train station.  That was way too much, so we asked for our room back, instead, to stay one more night.  Moments later a rickshaw came by and when we flagged him down he asked for 100 rupees, which we quickly agreed to.  We didn't even know if we would make it to the train station in time, since our train was departing in 20 minutes.  Luckily we got to the station with 10 minutes to spare!  And fortunately I made it through the overnight trip uneventfully.  Thank goodness for the AC3 class car!