July 21, 2012
Bagan has too many temples and pagodas to remember them all! We decided to slow down here, as well, and spent 5 nights and 4 days in Nuang U, north of Old Bagan. We had originally planned to stay a couple nights in Nuang U and then a couple nights in a nicer hotel in New Bagan, south of Old Bagan, but we were satisfied with the budget accomodations at May Kha Lar and realized it would be easier not to move.
On our first day in Bagan we had not yet gotten a chance to read the section of the guidebook about the temples of Bagan, so we were not quite sure what we wanted to see. We opted to take a horse cart ride as an overview. We hired a horse cart driver from May Kha Lar Guest House, who also works as a waiter there. The price was Kyat 15,000 for an all day ride. We left around 9am and got back after 7pm. Riding in the horse cart is much easier than bicycling and provides some shade cover. It was a good option on a very hot and sunny day.
Our driver would tell us a sentence or two about each of the temple as we arrived, but we felt we were not getting as much out of the experience as we could, since we had not read about the temples and did not have a guide to give us an explanation. We were able to take lots of photos, though, and it was a good introduction so we could prepare for the days to come.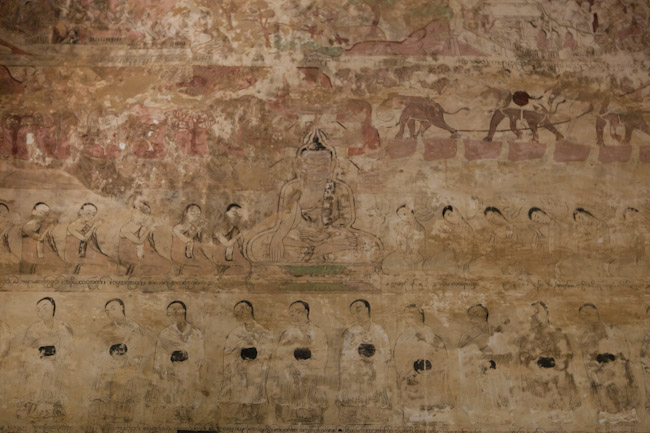 Dhammayangyi Temple is the largest of the temples of Bagan but was never completed.  There are multiple levels to the structure but we were only allowed to walk within the bottom floor.
Mahabodi Temple was the first we visited inside the city walls of Bagan.  It is very different in design from the others we had seen as the spire has a pyramid shaped tower compared to the others which are more rounded.  It's design was modeled after the original Mahabodi Temple located in India.  Within the niches of the temple are hundreds of images of Buddha.
In the evening we went to Shwe Leik Too for sunset and to get a view of the surrounding Temples of Bagan.
July 22, 2012
The next day, July 22, we took as a rest day. In the evening we walked over to Shwe Zigon Paya. We stayed until it got dark, to take photos. Shwe Zigon Paya is quite beautiful, but not as spectacular as Shwedagon Paya in Yangon.
More temples of Bagan tomorrow!