16 July 2012
There are no shortage of places where you can hire a driver for your boat tour of Inle Lake.  You can also hire a guide along with your boat driver, but we didn't realize that at the time.  Fortunately for us, our boat tour turned out great with just a driver!
We hired our boat driver from Smiling Moon Restaurant which also doubles as a tour agency and laundry service.  The lady who handles the tours is a fast talking lady called Ms. Thandar.  She was friendly enough and offered a decent amount of information plus her price was right at 12,000 Kyat for the full day.  You can also take different more thorough tours that take you farther down the lake which I think turns into a river.  In this region you supposedly will get a more authentic view of life on Inle Lake and by taking you to places that are less frequented by tourists.   We opted for Smiling Moon tours over our guest house, Teak Wood, where the grandmother in charge was very pushy, and like the Lonely Planet says, she was almost demanding which was a complete turnoff for us and I'm sure most everyone!
We decided to take two separate tours on two consecutive days.  We wanted to make sure that we had enough time to see and experience all that Inle Lake had to offer and two days turned out to not be enough!  However, the experience turned out to be incredible!  You can read about the second day exploring Inle Lake by boat in the next post.
Our driver Po, met us at our hotel at 7:30 AM then we walked over to the area where we boarded the boat at the main canal (Nan Chaung), which was a few minutes walk from Yone Gyi Rd.  I'm certain that you can easily hire a boat driver here if you want and you will probably get a better deal. After climbing over several boats to finally reach ours, as there were many that  were tethered together, we were on our way.
As we cruised south to enter Inle Lake we passed many other boats that were coming into Nyaung Shwe filled with fresh produce of tomatoes, garlic, onions and even fire wood.  The view along both sides of the canal is mostly wetlands and preserved areas for birds and other wild life, but there are also areas where thatched houses line the banks of the canal. I think it took at least 20 minutes before we entered Inle Lake and suddenly we were in the vastness of this massive lake.  With boats speeding in every direction far and wide you start to realize that this lake is much bigger that it looks on the map.  It looks as if the lake fills the entire valley as mountains rise on both sides.  There are also marshes that mix in with the lake.  So there are areas that appear to be little islands where a variety of plants grow including water lilies which are everywhere on this lake.  Too bad that it was not season for them to be blooming.  We were told that October is the best time for that.  Regardless, you will still see some that are in bloom, but it must be incredible during the  peak season!
As we continued south down the lake we saw some of the iconic fishermen who use one foot to paddle, but it was not as we expected.  Most appeared to be using more modern techniques with regular nets, but we didn't really get close enough nor linger long since there were many other places to see.  Also, at the time I didn't know that the best time to see them is between 8 – 10 AM when they are pulling in their nets.  At least this is what we were told by our hotel reception the following day!
Ywama – Taunggyi Floating Market
Our first stop was about one hour and fifteen minutes since we left Nyaung Shwe.  We pulled into a silver shop which was next to the five day market, which happened to be at Ywama (Taunggyi Floating Market).  The silver shop seemed setup completely for tourists and we were not interested so we quickly headed out for the market.  However, to our disappointment, the market really wasn't floating at all.  There were only a handful of merchants in their boats.  Instead, we were told by our driver that because the water level is very low this year (they are having a drought year), the market is on land.  As we walked through the market we were surprised at how touristy it was!  It was about 80% setup for tourists and only 20% for locals.  A big disappointment indeed!  There was a ton of stuff for sale including vegetables, noodles and a ton of stuff for tourists like t-shirts and scarves.  There were some interesting items but it was hard to tell if they were authentic. Such as carved Buddhas and stories of Buddha on palm paper. Were they authentic or  just made to look old so the merchants could get a better price?  Nowhere else in Myanmar had we yet to encounter so many people pushing their goods on us that we were completely turned off and left.  Unless you are interested in this stuff we recommend that you skip this place altogether.  There are better places to buy your souvenirs without all the hassle.
Nampan Floating Village
It's a little funny that they call everything here floating when most things are actually standing on wooden stilts.  No matter, the village of Nampan was a very peaceful and charming place where everyone has at least one boat parked under their home, fisherman seem to fish right from their porches, children paddle to school on wooden canoes and women wash their clothes on the docks of their homes.  The water is also surprisingly clear and still  and you can see amazing reflections is the calm waters and it is mesmerizing.  Strangely, it doesn't appear the houses have plumbing but the water did not smell.  I feel bad that we tourists are the only ones making noise as we maneuver through the villages with our diesel boats.  At least the boats have the courtesy to turn the engines down to almost a complete stall as we pass through.  Yet, it would certainly be better for the villagers if we either were required to use paddle boats or not be allowed at all.  Regardless, it is a wonderful place to visit to see how the locals live and is more than a world apart from what most of us know.
Lotus Weaving
One of the more anticipated places to visit was a lotus weaving shop.  It was something that we had to see to believe.  The people at the shop did a good job explaining the process of how they make material from the lotus plant. To our surprise they take the silky material out of the inside of the lotus stock.  It is an intensive and laborious process and explains why the cost of the material is very high. First they remove the strands of fiber from the stock of the lotus flower. Then they spin the fibers into thread. After that they weave the thread into fabric.  In fact, it wasn't until very recently that they began selling to the public.  Before, lotus material was reserved for monks robes.  A typical narrow scarf costs $80 USD in their shop!  Can you imagine how much more that would cost if you purchased that in the U.S.?
The material is not as soft as silk and actually has a rough feel to it but it also has a natural pleasant  smell that gets stronger over time each time you wash it.  They claim that this smell reduces headaches.  We shall see, since we hard bargained for two scarves!  They also sell a variety of other items that only use small amounts of lotus, such as scarves that have lotus ribbing.  They are still quite nice and would make a great gift.
An employee will give you a tour of their factory, which also makes items of cotton and silk, including the country favorite longhyi (traditional long skirt) for both men and women.
Lunch and Shwe Inn Thein Paya
We made a couple of brief stops at a couple more textile shops then had lunch in the village of Inthein where we had a great view of Shwe Inn Thein Paya which was just across the canal.  I can't recall the name of the restaurant but there is a good chance that your boat driver will stop here since the place was packed with tourists.  The food was bland and expensive as it was setup for tourists.  Meals were in the 2,500 – 4,000 Kyat range.  However, we still had a good time since we coincidentally met up with our new friends Andreas and Kathryn who have been traveling for almost a year!  It's easy to makes friends with like minded people 😉  We hope to see you guys again soon!  Happy and safe travels!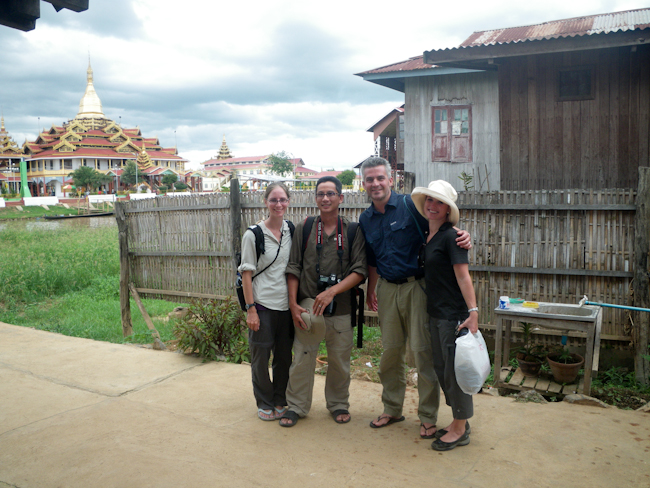 At first we didn't realize that Shwe Inn Thein Paya was what we were looking at from the restaurant because from the map it looks as if you have to make a short trek to get to it.  Instead, we just had to cross a couple of wood bridges and we were there.  On the way there are a couple of impressive boat floats that are used for ceremonies only (maybe once or twice a year).  The rest of the time they sit under a covered roof collecting dust and cobwebs.
Outside the Paya there are many souvenir shops but at this time we were tired of shops so we did not go inside any of them.  There is also a string of shops to the south of the Paya and places to get some refreshments.  We didn't actually go inside because there was construction going on at the time and debris seemed as if it could hit us at anytime. [But we ended up returning on another day to go inside.]  So we opted to walk around and take photos.  The best view is from the corner near the water way which is also opposite to where we had lunch.
Floating Gardens
I'm not sure the floating gardens are really floating but they are impressive as they are growing in what appears to be the middle of the lake.  We were fortunate to witness the farmers tending to their crops as they paddle through rows of crops.  Never had I imagined seeing farmers tend to their crops from wooden canoes.  The canoes are designed in a way that they can sit at the very edge of the canoe without falling out.  So they aren't in the canoe at all but sitting on it.  Inside they had a variety of items for farming and some of the canoes were full of weeds that they had pulled.  This is the common canoe that is seen everywhere in Inle Lake, and is used by school children to farmers to the fishermen.  The crops that we saw were tomatoes but were told that many others grow here including beans, cauliflower and flowers.
Nga Hpe Kyaung (Jumping Cat Monastery)
If you are visiting the floating gardens then the Nga Hpe Kyaung Monastery should not be missed since it appears to be either right next to or within the floating gardens.  Make sure you walk to the back of the monastery past all the souvenir shops to get a great view of the floating gardens.  When we arrived at the monastery there were no monks to be found but we expected this and was only hoping to see the jumping cats.  The place was filled with other tourists also waiting for the show.  Since we had time we enjoyed the buddha images which are quite impressive and should not be missed!   We were there for at least an hour when a monk walked by but then went out side and chatted with our boat driver.  A few minutes later a lady appeared who I think was one of the souvenir shop owners and refilled the tea bottles that were set out for tourists then proceeded with the cat jumping show.  Both Heidi and I agreed that the idea of cats jumping through hoops is more exciting that actually watching it.  Yes, the cats do jump through hoops but after seeing it a couple of times there wasn't much else to see.  Well, maybe it was a bad day?  For those you have seen it differently or with a monk running the show was it different?
Visiting An InTha Village
At this point, around 5:00 PM we were tired and ready to call it a day.  One that was for the most part a disappointment.  The mystic and allure of Inle Lake had been reduced to a tourist side show of souvenir shops, even though it had just begun only recently.  How could this be?  I sense that our driver Po new we were disappointed and told us that he wanted to take us to one more place.  He wanted to show us a village where no tourists visit and show us a hydro plant that was built by the villagers with no assistance from the government.
I don't know exactly the location of this village, all I know is that it was near the Jumping Cat Monastery and that it was an Intha village on the west side of the lake.  We pulled up next to a monastery in the sleepy village where a couple of women were canoeing through the waterways.  As we headed down a dirt path we were greeted by curious children and passerby's alike, which now has become normal to us in Myanmar but still a nice feeling to know that people were so genuinely friendly.  We walked for about 15 minutes before we came across a rather new monastery, one that was built only in 2008.  A rarity in this nation of ancients.  You could tell this monastery was new as it did not have the usual fanciful facade of the older ones.  Instead, it had a modern roof with stucco on the outside and pine wood in the interior.  However, it wasn't the monastery itself that made this place special but the view from the back balcony, which opened up to rice fields in the foreground and Inle Lake and the mountains in the distance.  Quite impressive and tranquil at the same time.  We stood there for a long time to enjoy the peaceful calm of it all as farmers worked the rice fields and water buffalo grazed in the distance.  This was the perfect photo opportunity so I had to take out my 24 mm lens and Joby Tripod to take some great shots (hopefully!).  This is certainly one of the best views we have seen of Inle Lake and probably best kept a secret and it will probably stay that way since I have no idea how to return to this place!
Our next stop was the hydro plant.  Personally, I think it's a great idea that they built their own plant but we were tired and didn't want to walk anymore, but off we went for another 10 minutes or so up a small hill.  Soon we passed the main road that goes around Inle Lake called Maing Thouk and crossed more beautiful rice fields, bean crops and banana trees before we reached our destination, the hydro plant.  The plant was built right into a waterway from mountain runoff and at the time it was not generating any electricity since there was no rain.  However, that could change at any moment since this place gets a lot of rain even though they are having a drought year.  We could tell that Po was particularly proud of this achievement but wasn't sure of his connection to it since he lived on the other side of the lake.
As we headed down the hill back towards lake we stopped at a thatched roof bamboo house and Po yelled into it.  We didn't think anything of it since he seems to know a lot of people and always yelling at them.  Well, at least it sounds like yelling to us since we don't understand Burmese. Then he told us that we'll just stop for a moment but we didn't' realize that he wanted us to come it.  It turned out that he was friends with the household and they invited us in.  This was a very special moment for us as we had never been invited into a house of a local and a bamboo house at that!  As we entered we were greeted by a 17 year old university student named Isha Me (I'm sure I'm butchering her name here) who was home for the summer.  She quickly prepared some tea for us then brought us a stack of fried rice snacks and oil.  It seems to be a very traditional snack here as we have seen numerous people buying them at shops and we were also served the same snacks at the Paluang Village near Hsipaw.  However, adding oil to it added a new twist.  The oil was very rich and reminded me of an extra virgin olive oil but did not know of this oils origin and would have been difficult to ask what it was since our guide new just enough English to get by and our host didn't know that much either.  No problem, it was very tasty with the oil.
A few minutes later Isha Me returned with another snack, that looked like had been cooking for a while.  The name of the dish was called hinthou.  I'm certain that I am butchering the spelling of the dish but it was probably the best tasting food we had in Myanmar until this point!  It was a combination of garlic, green onions, shallots, rice powder and a mixture of the same oil we were eating the crackers with.  Po also added more of the oil for flavoring and ate the snack as a dip – using the cracker, we scooped some of the hinthou dip onto our crackers and the taste was incredibly flavorful.  You could taste the individual flavors of garlic, onion and the spices along with the crunch of the cracker made for the best appetizing dip we have ever had!  We tried to get the exact recipe from Isha Me, but I'm sure a lot was lost in translation.  One thing is certain, the items are slow cooked in a banana leaf.
Heidi and I are usually polite about not eating too much at people's homes, but this stuff was sooooo delicious!  We practically cleared out the entire dish.  As we ate and chatted both of her parents returned from work and greeted us warmly and joined in the conversation and insisted that we eat more!  They were very curious to learn about our culture and we were curious about theirs.  I was even offered a cigar but declined since I don't smoke.  We will not forget the generosity and kindness of this Intha family.  If anything, it has taught us to be more kind to strangers.
So there we were sitting on the floor in the middle of the main room of the house enjoying our delicious snacks when it started to pour rain. We glanced around the room and saw that one entire wall was plastered with Burmese teen idols and also an older poster of Arnold Shwarzenegger from Commando and a poster of Rambo!  On another wall was a curio similar to those found in western homes.  We all sat in a circle with the snacks and tea in the center of the room.  The walls and floor were made of woven bamboo.  The floor had additional mats placed on top as without those the floor would have large enough slats that you could easily drop small items such as a pen and it would fall to the ground.  With the extra mat which also was made of bamboo the flooring was very comfortable.  The windows did not have any glass but were also made of bamboo and were more like shutters that you opened during the day and close at night.  The roof was corrugated metal but on the inside it was weaved bamboo.  Many of the homes still use the traditional thatched roofs that need to be replaced every two years.  We are told that those traditional roofs have no problems with leakage and we tend to believe them since so many homes still have them.  I think in the future more and more homes will switch to the metal roofs since they last much longer.  We were also surprised to hear about the longevity of the bamboo walls which is about 40 years.  Bamboo is certainly a great material and must be with these walls are fairly thin at maybe one centimeter thick.  Another common trait of these traditional homes is the doors are usually open.  The home we were in had a wood door and a padlock, but it seems that the door is always open unless there is no one home then maybe they locked it.  I think this is another sign of how safe it is in this nation that has been for so long isolated from the rest of the world.
As the rain began to subside the sound of cicadas could be heard outside and as the rain stopped the sounds grew louder and louder.  It was if someone had put a microphone right next to a cicada and turned the amplifier up to 10!  It was starting to get dark and we had to bid our new friends farewell.  As we walked down the drenched and muddy path I wanted to record the sounds of the cicadas so you could hear them for your self.  Of course, as soon as I pulled out my microphone recorder they stopped … Just my luck!
It was almost dark by the time we reached our boat and it's a good thing that Heidi always comes prepared!  Po asked us for a flashlight.  None of us thought we would be out this late, but Heidi saved the day!  As we headed out back into Inle Lake, the sky began to clear on the west side where the sun was setting which created an amazing effect on the mountain ridges with light streaming down to the lake.  It was a completely mesmerizing experience.  One that I was hoping to experience and it did not disappoint.  The water was calm and it looked like black ink …  Just like the Lonely Planet described!  The attached photo doesn't do it justice … Just something you have to experience for yourself!  The fact that our driver was going very slow made the experience much more rewarding as the water remained almost still.
It took over an hour to get back to the Nyaung Shwe as our driver was very cautious  using light signals to warn other boats of our whereabouts.
And tomorrow will be another adventure on Inle Lake…