July 18, 2012
We spent the 18th at Shwe Inn Tha, which offers luxury bungalows on Inle Lake. It was raining the whole day, so instead of trying out the swimming pool we used the internet near the lobby and attempted to get some work done, despite the incredibly slow internet. It was nice to slow down our schedule, if only for a day.
If you stay Shwe Inn Tha you will most likely have dinner here as well since the only way you can get to another restaurant is by boat or swim ;).  Actually, I think you can sneak past the back behind the restaurant and follow a path to the nearby village, but we didn't try it. The restaurant tries hard and offers some good Burmese and Chinese meals, but be prepared to pay three times the normal price!
We had a bungalow at the very end and all rooms offer views of the lake or marsh.  The rooms are nice but for the price they could use some renovation!  There resort was mostly empty except for us, a Japanese TV crew and a few others. It was nice because we didn't have any neighbors and watching the crew prepare for the days shoot made it interesting.  But overall, a very peaceful stay and much needed rest.
The next morning we got an early start so we could see a couple things before heading back to town (Nyaung Shwe). We hired a boat driver from the hotel for 10,000 Kyat. First, we went back to Shwe Inn Thein Paya, which was right around the corner. We had visited on our first boat tour of the lake, but failed to go inside. After reading about it in the guidebook we wanted to see the Buddha images covered in gold leaf, so we made a quick trip back.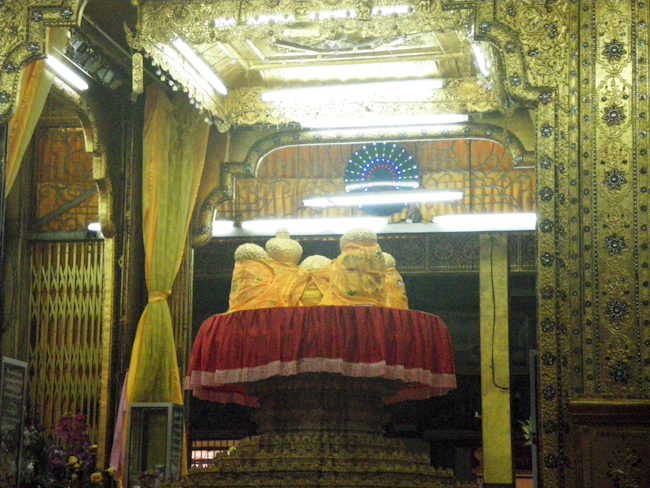 Notice that the Buddha images are so heavily covered in gold leaf that if you didn't know they were Buddha images, you would probably never guess what they were!  Everyday, they get multiple coatings of new gold leaf from pilgrims.
We stopped back by the hotel to eat breakfast and check-out. For the boat ride north across the lake we made sure that the driver knew we wanted to slow down and take some photos of the traditional fishermen. George had been trying to get a good photo of them for the past couple days. When we found a couple traditional fishermen, who are usually on the lake early in the morning, the driver slowed down almost to a stop and George was able to get some shots.
To be continued in the next post…