July 25-26, 2012
Bago is a mildewy drippy little town. My opinion of Bago is tinted by the fact that we arrived with a wet backpack and damp clothes and checked into the shadiest hotel we have stayed at in Myanmar. We spent one night at the Emperor Hotel in a double room with air cooler and hot water for USD $20. It was not worth the $20. The quality of the room was on par with the places we stayed in India, but much more expensive. Our room was on the forth floor, so we had to climb quite a few wet slippery stairs, and the handrail did not continue for the entire flight of stairs.
There were 3 or 4 men who greeted us and showed the room to George and helped us check in. Turns out one of them was a motorbike driver/ guide who was planning to show us around the next day. When we got to our cramped room we attempted to dry out some papers and souvenirs by spreading them out on the bed, but the air cooler wasn't strong enough to fully dry them. Even with the air cooler running the room was extremely damp. The one nice thing was that we had a view of a golden paya right out our window. The room seemed okay at first, but the more we noticed the more glad we were that we were only staying one night. There was a huge cockroach living under the night stand next to my side of the bed. The toilet did not have a lid on the tank and the seat was too warped and peeling to sit on. The sink stopper kept closing, until I propped it open with the broken comb they had provided in the toiletries basket. But enough about Emperor Hotel.
We were hungry for dinner and when we asked for a restaurant recommendation we were directed to the Three Five Restaurant next door. We were glad that it was so close. They had decent Chinese food but it was expensive, probably because they cater to package tourists who stay in the hotel part upstairs. During dinner, one of the men who had greeted us at the hotel explained the sights we could see the next morning and that he could take us by motorbike or tuk tuk. The guide book says the sights are close enough to bicycle to, but it was raining and we weren't in the mood to bicycle. He explained that if he showed us around in the morning we could be done with Bago and on a bus to Kyaito by 2pm. We agreed. We thought we were paying 15,000 Kyat for the tuk tuk ride and then $10 each for combo admission tickets. But we realized the next day that we were paying 15,000 Kyat and also the $20 to the "guide" who knew how to get us into the sights without paying for the admission tickets or camera fees. He also had a separate driver, who I'm sure was getting a cut. I thought the total price of around $38 was way overpriced for a half day tour. At least it was extremely convenient in that we already had it booked that evening, so we were ready to start the next morning at 6am. We also bought our bus tickets to Kyaito from him for Kyat 5,500 per person. We thought it might be a local style bus, but it was a clean AC bus.
We managed to roll out of bed at 5:30am the next morning and start our sight seeing at 6am, by watching the monks make their rounds collecting alms. I felt bad to be standing there watching them just to take photos. Next time we are up early enough to watch the monks collect alms I would like to participate by donating some food to them.
After that, our schedule included a paya, a huge reclining Buddha and some sitting Buddha's. By the end of the day I couldn't even remember what order we visited the sights in.
Kyaik Pun Paya has four sitting Buddha images, sitting back-to-back. From Lonely Planet, Myanmar, 2011:
"According to legend, four Mon sisters were connected with the construction of the buddhas; it was said that if any of them should marry, one of the buddhas would collapse. One of the four buddhas disintegrated in the 1930 earthquake, leaving only a brick outline (since restored) and a very old bride."
Part way through the morning we got some breakfast at a tea house. Luckily, g was smart and bought two mangoes at the market across the street (for about 25 cents a piece). Our guide nicely cut the mango for us at the tea house. He also ordered us each an Indian style tea (chai), which George couldn't drink because of the milk. I drank both, knowing I might regret it. I also decided to eat the fried bread sticks that were offered. I have seen them all over Myanmar and wanted to try them. I liked the taste, but they weren't the cleanest. After breakfast my stomach didn't feel so good for the next couple hours, but I got over it.
The story about Shwethalyaung Buddha goes like this. The King's son met a Buddhist lady and fell in love, even though his father's kingdom worshiped Pagan idols. The prince married his new found love, promising that she could remain Buddhist. His father was outraged when he found out and ordered the couple killed.
"Yet when the new bride prayed in front of the pagan idol it cracked and broke. The king was seized with fear and, realising the error of his ways, he ordered the building of a statue of the Buddha and the conversion of the population to Buddhism." -Lonely Planet, Myanmar, 2011
We also visited the 114 year old python that is a re-incarnation of a monk.
Lastly, we went to Kha Khat Wain Kyaung Monastery to watch the monks eat lunch. Both George and I thought it was silly that tourists go to watch the monks eat lunch. We almost asked to skip it. But it turned out to be a neat experience. We have been learning about the monk lifestyle throughout our tour of Myanmar. The monks in Bago collect alms in the morning, but it is not enough food to go around, so big vats of rice and curry are also cooked at the monastery. Each monk is given a large scoop of rice as he enters the dining hall. There are curry and other dishes on the tables, depending upon waht was donated that day. The monks are given 20 minutes to eat, and after that time they must stop eating and file out row by row. They eat quickly, so helpers quickly refill bowls of rice and bring them to the tables that have run out.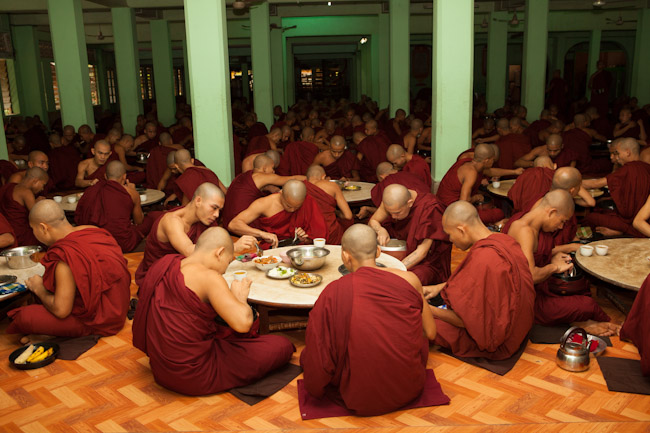 George helped scoop rice from the huge vat into the bowls that the monks would then take to the tables.
Soon enough their luch time was over and as they filed out they had to dump any remaining food into a container and have their alms bowl checked by a teacher, to make sure they were not cheating. The monks at this monastery only eat breakfast and lunch, so their next meal would not be until the next day.
Visiting Kha Khat Wain Kyaung Monastery at lunch time turned out to be a great experience.
Once we got back to our hotel we had about an hour and a half to each lunch and freshen up before catching our bus to Kyaito. I'll let George write about the bus ride.