July 2, 2009:
We started out our day with chocolate y churros (3.5 Euros) in Plaza Mayor.  It wasn't nearly as good as I had hoped (I actually prefer the churros at Costco), but I had to at least try it once.  We spent the morning  pondering the masterpieces at the Prado Museum.  I even got to see the real version of my favorite piece from high school art class: Las Meninas, by Diego Velasquez.  Of course, George recognized even more of the paintings, having studied art history at UCSB.  Our favorite masterpiece was Garden of Earthly Delights, by Bosch.  We probably examined it for 45 minutes.  It was way bigger than George had imagined it to be, and each time you look at it you see something new.  We stayed for over four hours at the museum, but could have stayed even longer, if there weren't other sights we still wanted to see in Madrid.  In the afternoon we walked to Retiro Park.  People were out boating on the lake in the bright sun, but we didn't stay too long, since it was so hot.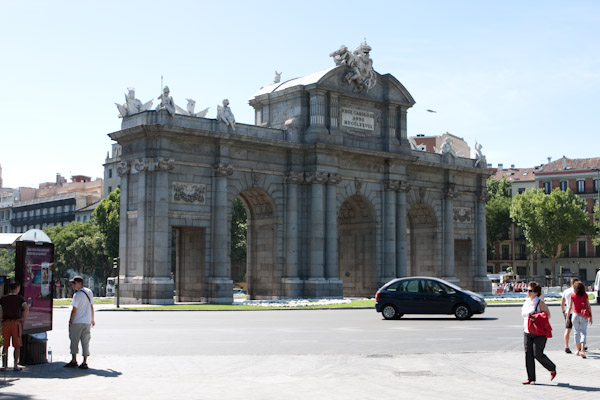 Alcala gate, above, is on the street corner right near Retiro Park.
Then it was time to grab our bags from the hotel and head to the airport to fly to Ireland!