On our second day we headed off to San Kampaegn Road to look for traditional cotton and silk weaving.  The driver from our hotel dropped us off at Thai Silk Village, Co.  The store had an area showing the steps for making silk and a large show room of expensive silk clothing.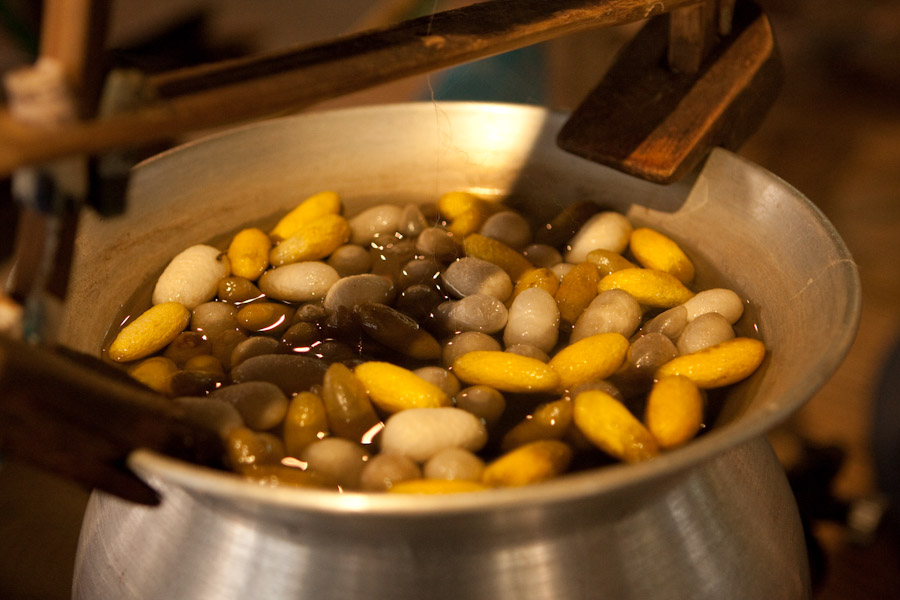 Right before George took this photo the ladies working at this station were boiling their lunch in here as well, in little plastic bags.
It was pretty cool that you could see the stripes forming as she worked.  They're really quick!
After looking around the show room for a while and not finding anything we headed out to San Kampaeng street and walked towards Bo Sang.  Our lonely planet guide book said that San Kampaeng village, 5km past Bo Sang does traditional silk and cotton weaving.  But when we stopped by the Gem store to do some window shopping the salesperson there told us that the people in San Kampaeng no longer do traditional weaving and that it's just a regular town now.  We didn't buy any jewelry, but I did get a cool lantern shaped purse made out of Tilapia (fish) skin!  They also sold purses made out of viper, sting ray, and crocodile, but I wouldn't have felt right buying any of those.  After the Gem store we started walking back the other direction, towards Chiang Mai City, and stopped off in a silver store, and then caught the white sawngthaew back to Chiang Mai (15 baht/person) and got off at Warorot Market.
We spent the rest of the day wandering around the markets.  We much prefer the Warorot Market, which is open during the day and sells lots of produce, clothes, and fresh flowers over the Night Market.  I had been excited about shopping in Chiang Mai, but we were both quite disappointed with the night market here.  It just doesn't compare to the Suan Lum night market in Bangkok.  Most of the stalls were along the busy street and the indoor area was mostly empty with only a few scattered vendors.  Also, too many of the vendors sell conterfeit name brand goods or t-shirts rather than handicrafts.  The descriptions I'd read of Chiang Mai made it sound like the best place to shop in Thailand, but I didn't find any great shopping here.