May 17, 2009:
DREPUNG MONASTERY
The next morning I awoke, after hardly any sleep, and had a terrible head and neck ache!  Again I was unsure if I could get out of bed, but I decided to take a hot shower and after that I felt amazingly better.  I only had a slight headache so I didn't take any aspirin.  Heidi was feeling like her normal self.  She had clearly kicked the altitude sickness!
To get to Drepung Monastery we hopped on the city minibus.  Without our guide, we would have never known what to do.  Heidi was greeted by a Tibetan man as she entered the bus with a friendly, "Hello!  Please sit down!"  Tibetans are very friendly and smile a lot!  The bus reminded us of the little buses in Laos, where they over stuff them then allow 10 more people on the bus!  Because we stopped on what appeared to be every block, it took about 30 minutes to get near the monastery where we had to hop on another bus that took us directly to Drepung Monastery.  The cost of the bus was 2 Yuan per person.
Drepung Monastery is also on a hill so again it was quite taxing for us to get up there.  Good thing we moved at a very slow pace and took photos at every opportunity to slow us down ;).
Drepung Monastery is the largest in Tibet and once housed and educated 10,000 monks!  The cultural revolution (as it is referred) put an end to the hey day of this place and now only 100 monks are in residence, due to the now imposed government restriction.
On the way back down from Drepung I was starting to get low on energy and my headache was getting worse.  Sorry to be such a whiner but this altitude sickness is one of the worst feelings to have.  A headache alone is bad enough, but having nausea at the same time, then having to walk down a hill (1/2 a kilometer) to the street was just too much for me.  We opted to take a taxi back to the hotel and reschedule our next attraction until later in the day (just like yesterday) because of my sickness.
As soon as we got back to the hotel I ate a banana and popped a couple of aspirin.  Heidi  took off to the restaurant without me as she was starving!  About a half hour later she returned with some lentil soup and some home made bread.  Both were delicious but the bread had a hint of the gi butter (yak butter) flavor to it and it almost made me puke.  On the bright side,  I was starting to feel much better after the yummy soup and medicine and we were ready to head back out soon!
Cans of oxygen like the one I am using in the photo are readily available in Tibet, and cheap, at 14 yuan/can.  Too bad it didn't seem to do anything for either of us!  What did work was the natural herbal mountain sickness medicine and aspirin.
SERA MONASTERY
We took a taxi to Sera Monastery and it only cost 12 Yuan.  Sera Monastery is the number 2 monastery in Tibet and also located on a hill.  By the time we reached the ticket booth I was feeling almost 100%!  Amazing!  Again, like all of the other places we had visited, no photography inside unless you were willing to fork over 15-25 Yuan for each temple!  No thanks!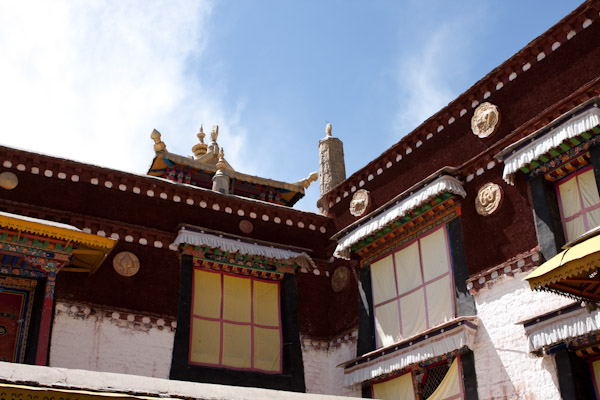 We were impressed to see these sun stoves at some of the monasteries and people's homes for boiling water!  It's a great environmental idea up here where the sun is super strong even when it's cold!