Honu on Laniakea Beach-
On Saturday (November 19th) we drove to the North Shore of Oahu to see some big waves and sea turtles!  Our first destination was Laniakea Beach.  From Waikiki we took H-1 West to H-2 North to 80/99 North Kamehameha Hwy, which turned into 83 E.  It took us about an hour to drive to Laniakea Beach and we arrived around 1pm.  We could have also taken The Bus, route 13 or B and transferred to route 52 in downtown.  It would take about 2 hours and cost $5 round trip per person.  We might try that sometime.
We managed to find a parking spot in the dirt lot across the street from the beach.  As soon as we got out to the sand we could see a turtle napping in the sun!  George had read that Laniakea Beach is a great place to find Sea Turtles (Honu), but I was surprised how easy it  was to see them!  Volunteers had roped them off to keep people back a bit and were keeping an eye on the turtles.  You could still get plenty close to take photos of them!  At first we thought there was just one turtle on the beach, but then we noticed that there was another one higher up the beach that blended more with the sand since its shell was drier.  One of the volunteers told us that there are 28 turtles that regularly visit Laniakea Beach to take their 2-3 hour naps.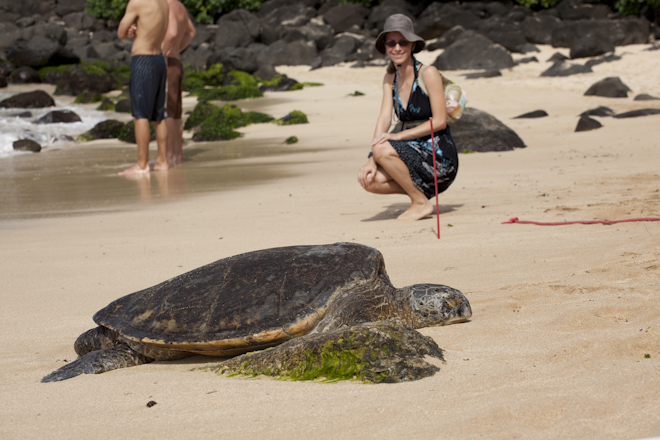 We sat and enjoyed the relaxing waves and the soft sand between our toes.  We could see another turtle swimming in the surf that looked like it wanted to come ashore, but all the people at the water's edge seemed to be keeping it at bay.  We waited around hoping that one would come onto the shore, so we could get some photos of it crawling out of the waves.  We finally got up to leave, but just then there was a turtle crawling on shore!  George was able to get some beautiful photos of it.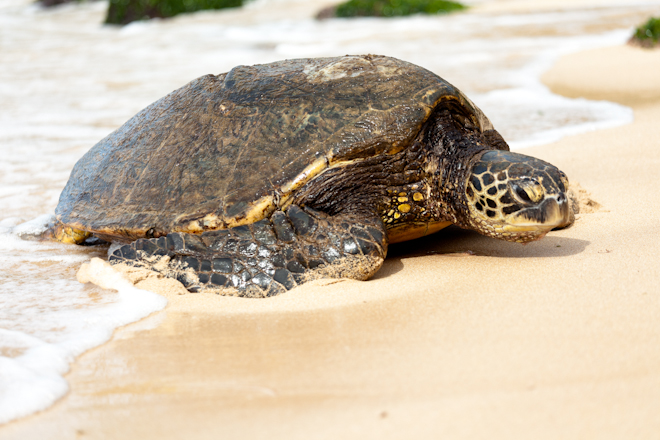 After about an hour on the beach I was getting hungry for lunch and ready to go in search of some food.  We passed a few grills and food trucks as we headed north, but none of them had much parking, so we decided to continue on to our next destination- Turtle Bay.  I really should get better about packing picnic lunches!
Kuilima Cove at Turtle Bay Resort
We pulled into the entrance for Turtle Bay Resort at the northern tip of the island and found a place to park near the shoreline access.  We found a pathway leading down to the protected Kuilima Cove.  There are also Turtle Bay and Kawela Bay at Turtle Bay Resort, but we haven't tried out those beaches yet.  George went snorkeling in the cove while I sunbathed on the beach.  It was an overcast day, which made it not ideal for snorkeling, but it helped me not get sun burned.  George thought the snorkeling at Kuilima Cove was okay, but we are excited to try some other spots on Oahu.
Luibueno's Mexican Seafood & Fish Market
After a pleasant day on the beach I was ready to eat!  Originally we were planning to try one of the famous North Shore shrimp trucks, but they appeared to be even farther towards the east side of the north shore, so we decided to save that for another trip.  Instead, we drove back south to Haleiwa and tried Luibueno's Mexican Seafood & Fish Market.  From the reviews on Yelp, the food sounded good, but pricey.  Luckily, we got there at 4:30pm and were still able to order off the Happy Hour menu, which is available from 3-5pm.  We each tried the burrito with beer battered Mahi and George also ordered a fish taco and a Coke.  The fish taco was delicious and the burritos were good too, although smaller than I expected.  Our meal came out to $20, which is much better than their regular price meals, where a single taco can run you $7.75 and a burrito with rice and beans $14.  The service was friendly and attentive.  We will be back again, and recommend Luibueno's, but if you don't want to pay a fortune, we advise eating there during happy hour!