October 16, 2011
The Diamond Head Volcanic crater lies on the south-eastern side of Oahu, at the end of Waikiki.  The majestic crater jutting up into the sky is the classic backdrop for vacation photos in Waikiki.  When researching whether to move to Oahu I had looked up all the outdoor activities we could do.  While looking for places to live online, I had thought it would be nice to live on the Diamond Head side of Waikiki, and then we could hike it every weekend!
Well, it turns out that the other side of Waikiki, toward Ala Moana Beach Park and Ewa city is actually the nicer area of Waikiki to live in, so we didn't end up next to Diamond Head.  We finally hiked to Diamond Head today, and we have revised our plan to hiking it once a month.
From the corner of Namahana Street and Ala Wai Blvd (along the canal) in Waikiki, Google maps estimated that it would take 53 minutes to walk to the entrance of Diamond Head State Monument and it was spot on!  The entrance to hike up Diamond Head is at Diamond Head Rd and 18th Avenue, so you have to go around to the Mauka (mountain-side) to start the hike.  We made sure to get an early start, to beat the heat and left around 8:00am.  The first part of the walk was flat, along the canal and through a neighborhood, but there started to be a bit of an incline once we got onto Monsarrat Ave (which turns into Diamond Head Rd). Unfortunately, we chose the wrong day to walk to Diamond Head, and for part of the walk along Monsarrat we were going against the flow of traffic of a "Walk for the Cure" event.  We managed to cross through the crowded street of pink pedestrians and get out of their way.  After the 2.6 mile walk to get to the entrance, we were all warmed up to hike Diamond Head.
If you are staying more towards the Diamond Head side of Waikiki it would be an even shorter walk.  And if you prefer, you can drive and pay $5 entrance fee per car, instead of $1 entrance fee per pedestrian.  Or you could catch bus 22 or 23 along Kuhio Avenue and get dropped off right at the entrance.  (To check any of the bus routes, just look for directions on Google maps, and select the bus icon and it will tell you which bus to take and when the next one is coming.)  There is even a stop for the tourist trolleys at Diamond Head, so there are plenty of ways to get there!
Once we reached the base area at Diamond Head where there are benches and restrooms are we took a short break, before heading up.  We had read that all sorts of visitors to Oahu take this hike, and you do see many types along the way, from young children to grandpas.  The hike up turned out to be pretty short, it only took us about 20 minutes.  There are 2 sets of steep stairs that can be kind of tiring, but it was not that bad compared to hikes we are used to.  The worst part was at the very end, you had to squeeze through an opening, like climbing out of a bunker.  We saw that some new stairs were in the works that might bypass this part of the hike and make it easier.
When we got to the little platforms at the top it was a beautiful view!  The ocean was gorgeous shining blue.  And we could see all the iconic skyscrapers along the beaches of Waikiki.  I kept thinking, it looks like Waikiki, except Diamond Head is missing.  Oh, yeah, that's because I'm standing on it! 😉  We spent at least 20 minutes at the top taking photos and enjoying the view before taking a leisurely stroll down.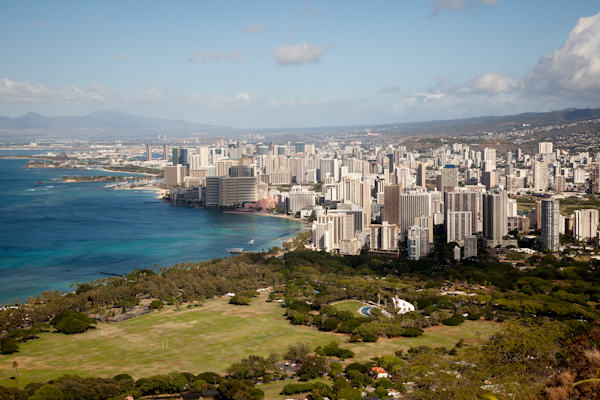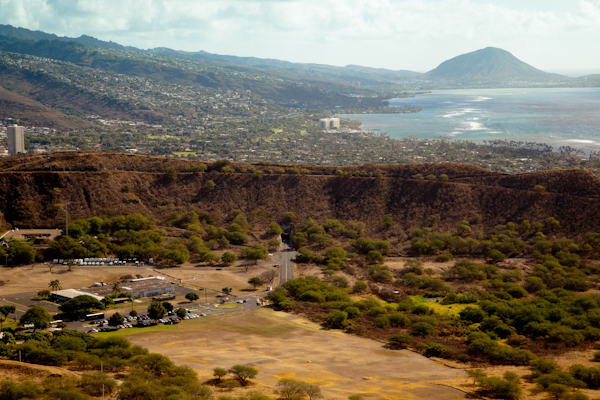 After climbing back down we stopped at the entrance area again for a short granola bar break.  This time, instead of walking back along the canal, we headed for Kuhio Beach.  From Monsarrat Ave we cut in front of the zoo on Kapahulu Ave.  We stopped off for lunch at Teddy's Bigger Burgers, as it was mid-day and we were quite  hungry.  I don't recommend Teddy's Bigger Burgers.  I had been excited to try it, but it was more of a to-go place than a diner, and the food wasn't great.  The bun on my sandwich was so burnt that my sandwich just tasted like charcoal, but I don't think it would have been that great even if it had not been burnt.  After getting a refill on our drink we headed to Kuhio Beach Park.  We found a nice grassy place in the shade to rest and stretch while we gazed at the ocean.
It was quite a nice outing, and enough of a work-out to make us sore for a couple days.  We hope to make the hike up Diamond Head a monthly ritual.