On our second day in Hoi An we rented bicycles from our hotel for $1/day/person and bicycled to the beach.  It was a very pleasant ride through rice paddies, as we left the town and headed to Cua Dai beach.  We were surprised at how big the beach was.  We didn't come prepared to swim, so we just sat in the shade for a while and ordered cold drinks, but it would also be a nice place to swim and sun bathe for a day.
On the way back we stopped at the restaurant in the river on stilts that Maya had recommended.  It was so relaxing to have the water flowing beneath us.  I'd definitely recommend stopping there for a drink (but not the chicken sandwich).
The next day we rented bicycles again and headed across the bridge to the peninsula, where we both got haircuts for 100,000 dong (about $6) for the two of us.  Then we ventured over the other bridge to Cam Nam Island and explored there for a while.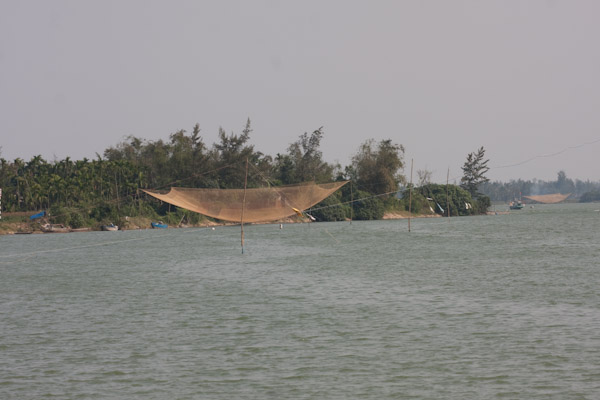 Once we got back to the mainland we just had to get some ice cream to cool down and we found Xiu Xu restaurant at the end of the road that runs along the river.  From the restaurant we could see the stage that was being set up for a concert later that evening.  The staff was really friendly, so we decided to return for dinner to watch the concert.