We arrived in Khajuraho on the morning of April 5th.  As usual, there were rickshaw drivers at the train station trying to take us to particular hotels for commissions.  We insisted on going to Yogi Lodge, which was listed in Lonely Planet.  We were very happy with the service there and got a bargain on a room with an air cooler (we paid around 350 rupees/night).  Air coolers aren't quite as strong as air conditioners, but it sure was a welcome change after staying only in fan rooms up to that point.  We ate lunch at the rooftop restaurant and then napped for a couple hours, as I still wasn't feeling 100%, after being ill the day before.
We finally headed out to see the temples around 1 or 2pm.  Khajuraho is famous for its temples, most of which have Kama Sutra and war scene carvings.  The western group of temples is the best, and it's located right in town.  From Yogi Lodge all we had to do was walk across the street.  The western group has an entrance fee of 250 rupees/ foreigner, while the other temples on the outskirts of town are free.  We spent a few hours walking from temple to temple and taking photos.  I took lots of breaks sitting on the steps in the shade.  Luckily there was a concession stand in the temple complex, where we were able to get a cold Pepsi.
Here are some of the PG photos ;):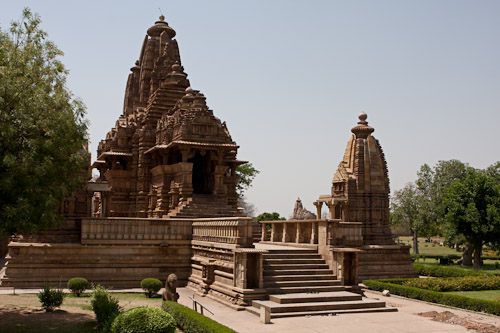 After seeing the temples we crossed back over the main street and ate an early dinner at Raja's Cafe, which has a nice view of the temples.  We ended up eating there a few times, since there wasn't a great selection of restaurants in the small town of Khajuraho.
The next day, on April 6th, we hired a cyclo rickshaw driver to take us to the eastern and southern temples, which only took us a couple hours.
When we were in Mumbai and booked a series of train tickets at the tourist reservation counter we weren't able to book a train from Khajuraho to Varanasi.  Even though the Lonely Planet book mentioned a train going via Mahoba, the lady at the reservation counter helping me wasn't able to find a train.  We inquired when we checked in at Yogi Lodge, as many of the hotels in India offer train and bus booking services.  We were able to get a new express Khajuraho-Varanasi train (numbers 1107/1108) for the night of April 6th, traveling in AC 3 class.  For an extra 200 rupees we were able to keep our room at Yogi Lodge until late in the evening, so we could shower and change before the night train.  When we showed up at the Khajuraho train station, which is pretty new itself, it was a pleasant surprise to see how empty and clean it was, compared to other train stations, where people are sleeping all over the floor.  The AC3 car of the Khajuraho-Varanasi train was also the cleanest train we had been on in India.  The bed/seats had recently been re-upholstered, there was new flooring, and we even got starchy new sheets and blankets.  The train was also pretty empty, probably because it was already late in the tourist season and departing from a small town.  It was definitely our most pleasant train ride in India!
In AC 3 class there are 3 tiers of bunk beds, on one side of the isle, but during the day the middle bunk folds down to make a back rest, so that the bottom bunk turns into a bench seat.  We prefer to have the top bunk, since that way you can lie down whenever you want to and don't have to worry about waiting for other people to be ready to make up the middle bed.  We usually end up with one top and one middle bunk.
On the other side of the isle there are just two beds.  The bottom one folds up to make two seats facing each other with a small table in between.