December 13, 2014
Aloha, Hawaii! A hui hou, goodbye, until we meet again! It is time to bid our friends in Hawaii goodbye, but we are sure to be back again, someday. Oahu was the perfect place for Kaisho to spend his first year, but now it's time for him to see the world!
George, Heidi, and Kaisho are off on a family adventure! Now that there are three of us traveling, we may change the name of our blog from "Adventures of George and Heidi" to "Live, Travel, Share". We will keep you posted.
When we first decided that we would travel to Vietnam shortly after Kaisho's first birthday, I freaked out a little bit. Sure, we had already explored Vietnam from North to South, and had traveled for months at a a time in the past, but taking a newly walking toddler half way across the world? Were we crazy? I worried that during the plane ride Kaisho would kick the seat in front of him, pull people's hair, run up and down the aisle, yell, and cry. Not to mention the stories I had heard about babies getting sick or their diapers leaking.
I searched for advice online about traveling with toddlers and asked friends for tips about traveling with a baby. I decided to arm myself with a bag full of snacks, a new toy, and a change of clothes for each of us. I also tried to keep in mind the advice that Baby will follow my lead, so the more relaxed I am, the more relaxed Baby would be.
Even with three flights and lay overs in two countries, the trip from Hawaii to Vietnam went smoothly. We departed Honolulu around 11:45am on December 10th. Luckily, Kaisho slept in until 8:30am, allowing us to do a little last-minute cleaning of our apartment. Preparing for travels is always a big endeavor for us, since it requires not just packing, but also getting rid of belongings and cleaning out our apartment. We couldn't believe that even with giving away, donating, and selling so many items, we still shipped 4 boxes to California. In the future I am going to think long and hard about any purchase. I think the new standard should be, "Will I use it everyday?". And if not, don't buy it. I would be happy in our next home to just have tatami mats to sleep on. But back to traveling. We managed to swing by the post office to mail last minute letters, return the rental car, and check in for our flight on time.
Honolulu to Narita
Going through security took extra long, since we had an oversized bottle of coconut water for Kaisho with us and a new employee learning the ropes. Plus, we were carrying two small bags that we weren't planning on bringing. So along with the 75L backpack, 2 day packs, and car seat, we also had a snack bag, and a small bag with our warm clothing that we couldn't bring ourselves to put on while still in warm Hawaii. And at the last minute I had stuffed items in the pocket on our Ergobaby carrier and forgot about them until going through the metal detector. "Oh yeah, forgot about that cell phone and roll of quarters in my baby carrier…" Not our shining moment in traveling, but we made it through with all of our belongings, even the coconut water :).
We had selected seats near the back of the plane, one aisle seat and one window seat, and it worked out as we had hoped that no one booked the middle seat between us. So, luckily, Kaisho got to have his own seat and bring his car seat on board. I was hoping for that, not just so he could ride in it for take off, turbulence, and landing, but also so the car seat would not get damaged from getting checked in. Kaisho was tired and easily took his morning nap on the plane. When lunch was being served I debated asking for an extra meal for Kaisho, but being that we hadn't bought him a ticket and it was United Airlines, I decided not to ask. But, then the flight attendant offered him a meal anyway. Yay! With the humming and motion of the plane, Kaisho fell asleep for his afternoon nap, as well. I paid attention to the time and tried to keep him on his regular schedule according to Hawaii time.
[TMI disclosure, but for those who do EC, you may be interested.] We put Kaisho in disposable diapers for the flight, but I had heard from many other EC parents that they had great success on flights. We had a couple pee misses in the diaper, but for the most part, Kaisho used his Potette Plus seat reducer on the airplane toilet. It helps that the toilet on the plane is little and the paper cups were good entertainment.
Our flight arrived early in Narita, Japan, I think around 3pm local time. Once we got situated at the gate to catch our next flight it was getting close to bed time based on Hawaii time (I think around 8:30pm HST). There weren't any restaurants nearby, so we ate snacks that we had packed for dinner. Kaisho ran around and greeted other passengers with smiles and waves. It was a good chance for him to get his energy out.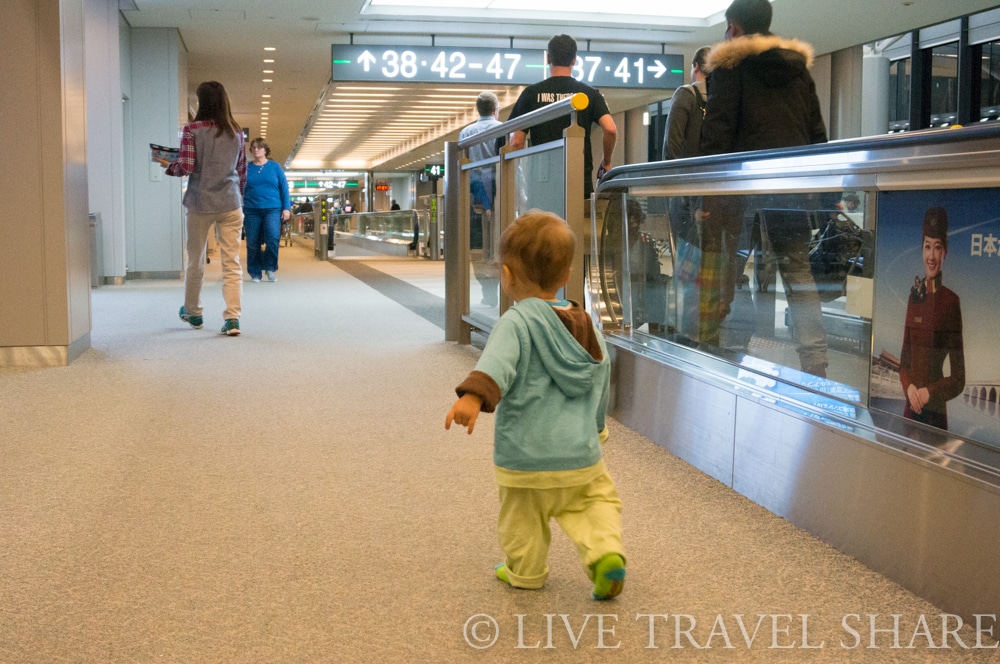 Narita to Seoul
Our second flight from Narita, Japan, to Seoul Korea was two hours, and I think it boarded around 10pm HST. So once we got on the plane, Kaisho went to sleep for a late bed time and slept the whole flight. I was even able to get him into the carrier asleep when we arrived, but he woke up while going through immigration. George had warned me that it would be cold in Korea, and we were each wearing long pants and a sweater, but I didn't realize how cold it would be. The first thing I noticed when we touched down was that everyone was wearing winter coats.
The service in Korea was excellent! After we got off the plane, I realized that we had left behind Kaisho's monkey travel blanket. An employee escorted George back to retrieve the blanket. He then showed us where the elevator was, so we didn't have to take the escalator. And when we got in the long line for immigration, another employee showed us the express line for families traveling with babies and pregnant women, so we got to skip the entire line! The info counter contacted our hotel and the shuttle would arrive in 10 minutes.. There were only a couple fast food places or 7/11, so we skipped eating dinner at the airport. It was already 9pm local time, so restaurants near our hotel would be closed. Oh, well.
We waited a bit before venturing out into the cold to catch the shuttle. I bundled Kaisho up with two blankets and out we went to cross the street. It was cold (-3 C). We could see our breath in the air. Kaisho was smacking his lips like the air tasted like a Popsicle. It was his first time feeling cold weather. Luckily, it wasn't too long of a wait before the shuttle arrived and took us to the Incheon Airport Oceanview Hotel. The service at the hotel was excellent and the floor in our room was heated! We were able to take warm showers and get about 6 hours of sleep. If it had been just me and George, we would have waited in the airport for our next flight. But, it sure was nice to get to sleep in a bed.
Seoul to Ho Chi Minh City
We took a 6am shuttle back to the airport and checked in at the babies and expecting line, with no wait. We had time to eat breakfast at the food court and let Kaisho run around a bit at the gate before boarding. The flight from Seoul, Korea to Ho Chi Minh City, Vietnam was around 6 hours, but we didn't need to break out the snacks or toys. This time there was no extra seat available, but we requested the bassinet seating. We didn't use the bassinet, but it gave us extra leg room. Kaisho had a little play area at our feet that was about 2' by 3'. He mostly tried to sleep through the flight, but woke up crying a few times when load noises woke him. We were all tired, but it wasn't too bad, and the flight didn't feel all that long.
We arrived in Ho Chi Minh City mid day on December 12th. We took a metered taxi to the Asian Ruby 3 Hotel in the City Center, where we will stay for the next week or so.
Overall, the trip was relatively painless, and we were not as exhausted as we had expected when we arrived. So far, so good. Here's to more happy travels with a toddler!
[Side note: Sorry that we never finished posting about our last adventure. We will try to fill in the gaps when we get a chance, since we were keeping a journal at the time.]